Y2021 JPHIL SAFETY DAY
The Corporate Health, Safety and Environment (CHSE) of JGC Philippines celebrates the Y2021 Safety Day with the theme, HEALTH: "with you, with JGC: Healthiness in mind, body and spirit will create a brighter tomorrow for us all". This annual widely celebrated event aims to promote and renew the commitment on safety, health and environmental improvements in the head office (MOC) and local project sites (SOC).
The celebration started in May 17 with exciting contests like 1.) Poster Making Competition which is anchored to the safety day theme; 2.) the weekly online Question and Answer focused on Covid-19 safety and health protocols in the office and community; 3.) the INSTASAFETY photo contest which demonstrates the good example of complying the minimum health standard in the office, home and project sites and 4.) the Safety Video Challenge.
All JPHIL MOC and oversee assigned employees, local PJ Sites and subcontractors' staff in any of JPHIL site, all workers engaged in each site and their families were invited to participate in this competition.
Judges were JPHIL Managers and judging was done thru online voting.
On July 9, the Safety Day closing ceremony was held thru virtual online streaming attended by more than 600 employees and respectable guests. JGC Corporation President Mr. Yutaka Yamazaki and JGC Corp. Executive Officer Mr. Kenji Ito graced the occasion and delivered their safety message to the employees. Mr. Y. Yamazaki emphasized the acronym HEALTH. H-Have enough Sleep, E-Exercise and Eat Healthy, A-Avoid too much smoke/alcohol, L-Lough at Loud/Listen to Music, T-Take Time Out, H-Hydrate/8 glasses of water a day.
DOLE-MUNTAPARLAS representative Director  Mr. Leonides P. Castillon Jr. gave his congratulatory message to JPHIL for the achievement of 50 million LTI Free Milestone. The Director announced that JPHIL is a consistent Safety Awardee in the EPC industry of the country.
And to finally conclude the celebration, JGC President. Mr Antonio F. Cabrera gave an inspirational message.
Overall, the Safety Day Celebration was a blast! Employees enjoyed the month-long celebration with fun and excitement.  The achievement of Fifty (50) Million Manhour Without Lost Time Incident milestone is a direct result of the passion and commitment to safety of everyone.
Y2021 JPHIL SAFETY DAY
CONTEST WINNERS
Poster Making Champion:
Employee Category
Mr. Manuel Ignacio (Piping Department)
Poster Making Champion:
Family Category
Mr. Jome Mendoza – son of Mr. Rogelio Mendoza – Rigger from PSPC-EMS/ITMS Project.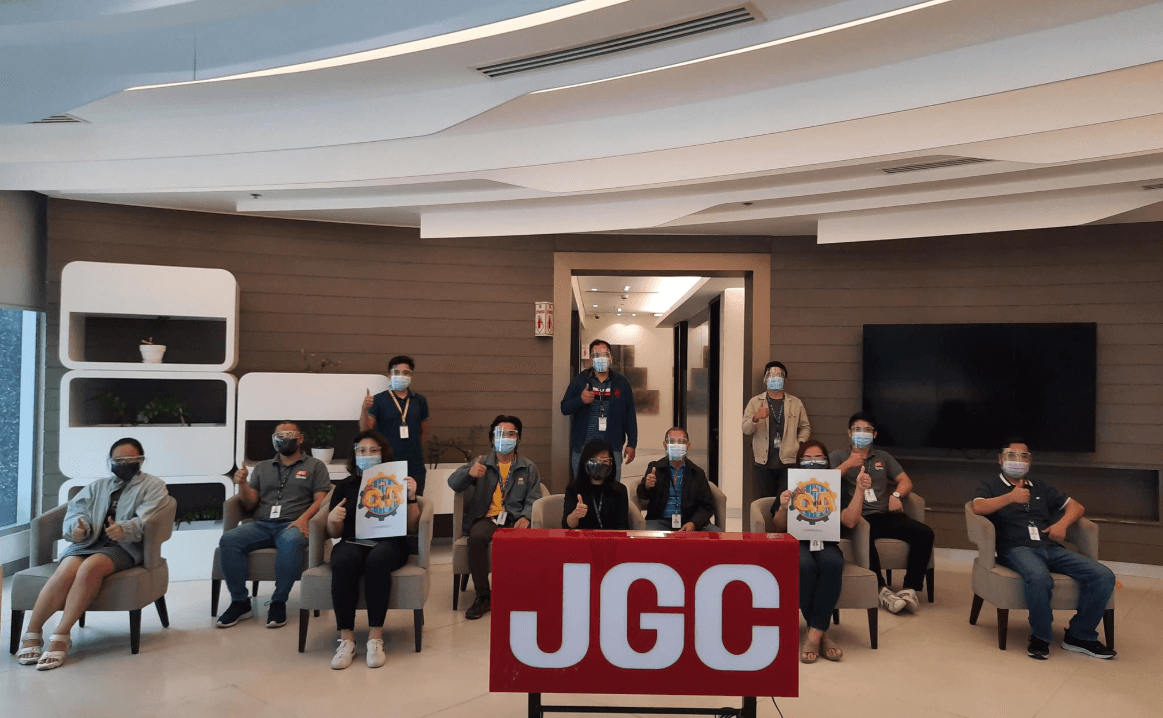 Q & A WINNERS
NSTASAFETY WINNERS
The Safety Video Challenge
The 1st Place winner:  Project Operations Division